Dynamic teams use the wisdom of proven leaders. Discuss these 10 motivational sales quotes with your team and boost their spirits on a consistent basis.
Isn't it funny how the right quote can change someone's attitude? Quotes can be funny, serious, intelligent, and everything in between. Snippets of wisdom inspire people to think creatively, overcome doubt, and take risks—the qualities every salesperson needs to succeed. Inspired teams make for strong businesses and sometimes the best motivational sales quotes come from people in every walk of life. The teachings are universal.
The trick is to use these quotes in meaningful ways. Pick a few motivational sales quotes for your team and discuss how it relates to their goals. Implement the wisdom in your company culture and turn that quote into a support beam for your salespeople.
10 motivational sales quotes to stir positive vibes throughout your sales department
When you have to your mind focused on the fear of failing, you're more likely to fail. Fear can boost people into action, but that won't sustain their efforts in the long run. Your staff need to keep their eyes on the prize. Stay excited about the results you want to achieve, not the possibility of failure.
Irrational fears have a way of crippling sales teams, especially those with new team members. For instance, the fear of cold calling is usually blown out of proportion. Your new salesperson imagines prospects laughing at them, cursing at them, or he pictures himself saying the wrong thing. The truth is that most of these fears only exist in our mind and the reality is never as bad as we build it up to be.
Sales managers who set high goals have a better chance of achieving them every day, week, and year. Aiming above your usual quota makes everything below it seem more attainable—a simple psychological concept. Whatever bar you place for your sales teams, raise it just a little bit higher. While they work hard for that large number, you hit your actual goals quicker.
Being a part of a team means that you share the responsibilities of every outcome. Whether you fail or succeed, there is no person to blame or praise—it's a group effort. Your teams need to rely on each other and aim towards one goal together.
~ ~ ~ ~ ~ ~
While you're searching for motivational sales quotes, Blitz could be saving you time with our automated lead management software. Feed in leads and start an automatic follow-up process. Sign up with Blitz today for a 30-day free trial.
~ ~ ~ ~ ~ ~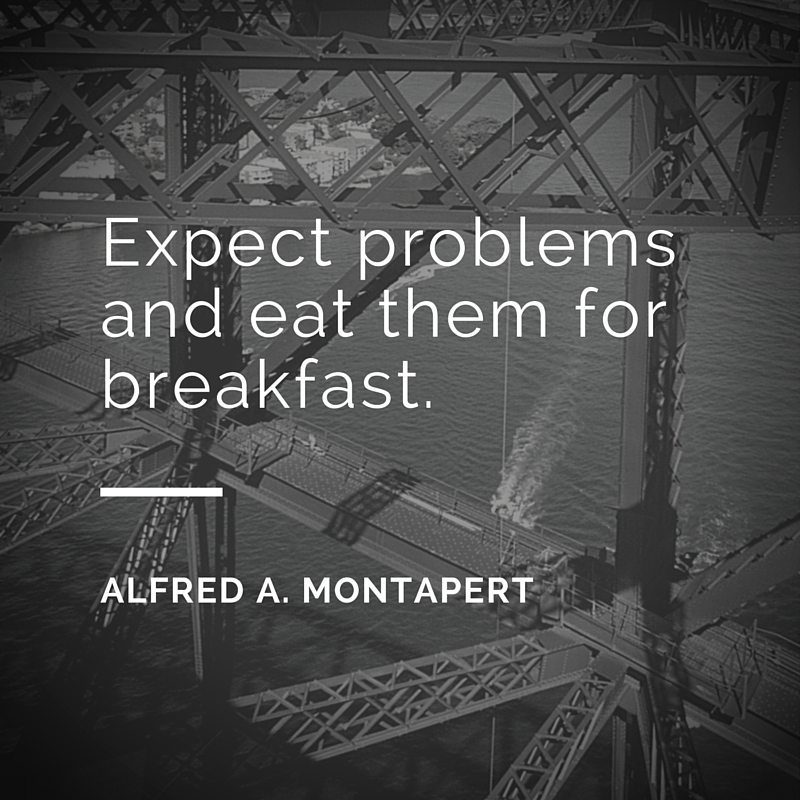 There is no such thing as a perfect business, sales team, or client. Mistakes happen and problems arise. Smart salespeople recognize the fact that avoiding problems cause more to happen. Focus on how to deal with issues as they form. Don't let them negatively affect the team's mood or productivity. Just face them, solve them, and move on.
A lot of people get caught up in thinking rather than doing. They make the best-laid plans, imagine how it's going to unfold, and keep thinking about the unknown future. How do you ever know you're going to succeed before the job is complete? Only in retrospect can success be measured and analyzed. Use motivational sales quotes to remind yourself that things need to get done. Push yourself and your team to achieve.
Sales teams are made of individuals, but should behave as one entity. They're striving for one singular goal together. Teams cannot work without individual skills, points of view, and talents. Success depends on all of those parts working together. Did Michael Jordan play every opposing team by himself? No. He had a team to lean on and push him forward.
Henry Ford is the king of motivational sales quotes. He's an American icon of industry, team work, and efficiency (he invented the assembly line, folks). He makes a good point here: getting people to work together is a process. As a sales manager, you have to maintain the ties of companionship within the team. Once they start working together, most of the hard work is done.
United we stand, divided we fall—you've heard it before. The wisdom is universal. Teams are stronger than individuals. When bundled together, they're much harder to break. Take the time to teach your sales teams the value of each other's support; encourage an atmosphere of sticking together.
When it comes facing insurmountable odds, General Patton serves the best advice. Stop focusing on how tough it's going to be and start focusing on how sweet victory is going to feel. Accept the challenges and push forward.
A weekly dose of motivational sales quotes could strengthen your teams in the long run
Don't let these quotes waste away as words hanging on the walls of the office. Make the effort to discuss these little bits of wisdom with your team. Start a conversation and figure out ways to implement these words as meaningful mantras around the office.
~ ~ ~ ~ ~ ~
While you're searching for motivational sales quotes, Blitz could be saving you time with our automated lead management software. Feed in leads automatically and start an automatic follow-up process. Sign up with Blitz today for a 30-day free trial.
~ ~ ~ ~ ~ ~
Do you have a favorite quote to share with your sales teams? We want to hear it!