Last Christmas, families spent an average of $854 on presents (American Research Group, Inc.). With parents spending an average of $271 per child during Christmas, the holiday is certainly the hottest season for toy companies. Every year, the Toy Retailers Association predicts the top toys for the Christmas season. Below we're showcasing the 5 toys predicted to be the most in demand this Christmas:
1. City Coast Guard Lego Play Set
Lego's are always a popular gift among children, and understandably so. This Christmas' most popular set comes with three Lego sharks. After the recent popularity of the disaster movie, "Sharknado," it's no wonder the Toy Retailer's Association is predicting the shark-wielding play set to take the toy world by storm.
2. Doc McStuffins Doctor's Bag Play Set
Disney's play set is based off of the popular animated children's show, Doc McStuffins. The doctor's bag is specifically marketed to young girls, and includes a stethoscope, syringe, otoscope,  and blood pressure monitor.
3. The Nerf N-Strike Elite RapidStrike CS-18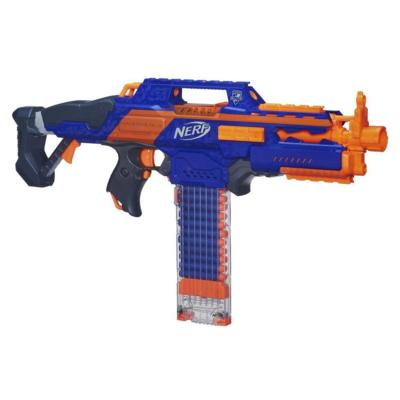 Hasbro's newest Nerf gun holds 18 darts and has a range of 75 feet. As one of the most consistently asked for Christmas gifts, Nerf by Hasbro has the monopoly on children's water and dart guns.
4. Furby Boom
Hasbro once again makes the list for its Furby collection. Furby, launched in 1998, has also consistently been a children's favorite during the Christmas season. With the new Furby Boom toy, children can interact with their Furby physically and virtually, thanks to the new Furby Boom app.
5. The VTech InnoTab2
With the increasing popularity of tablets comes the push to create more kid-friendly versions of the technology. VTech's InnoTab uses Wi-Fi to connect users to educational games, e-books, music, and videos.